As we all continue to work from home, the only thing we can be sure of is the rising level of uncertainty. What will the economic impacts of Covid-19 be?
Now that we all know we can work from home, will we stay at home? What will happen to the demand for commercial property? Could we be facing a prolonged period of inflation, or indeed deflation?
Like most industries, the lockdown has put the property sector into a slumber and that won't change until our government feels that they can safely start to lift the restrictions that are so important in dealing with the public health crisis.
As soon as we get back to work, the recovery begins, but in truth, we have no idea what the pace of recovery will be. We do know, however, that before the lockdown, this was a very healthy and vibrant sector and in recent years, salaries and living standards have risen at levels well above inflation.
Up until the health crisis hit us all hard, a consistent rise was observed within Property & Asset Management, especially for those at Senior Surveyor and Associate Director level.
While looking into this, we decided to catch up with one of our clients to see how they are coping with the lockdown. Robert Murray, Divisional Manager at Oyster sat down (virtually) with Adrian Sayer, Managing Director at Metrus, one of London's leading property advisors to discuss how the company is dealing with the situation and what his thoughts for the near future look like.
Into our 7th week of change and uncertainty, how are you and the Metrus team coping?
It has been a challenging time for everyone, getting used to the home working environment with new routines. The shutdown came at a time just before the March quarter day when rents and service charge payments became due. We were under immediate pressure to perform. Both in terms of collecting revenue and providing advice to clients on individual tenant situations and relevant action to take.
Our management surveyors and accounts teams have been at full tilt. They have been ensuring we provide necessary advice and liaison with clients and occupiers alike.
The situation has been similar to the commercial portfolio and residential blocks that we manage. There have been new challenges ensuring safe occupation and access is maintained. We are also trying to provide value in terms of service charges and communicating with occupiers.
Our agency and lease advisory teams have found matters challenging. This is likely to remain so for some months ahead even after the restrictions are lifted. It will be felt particularly in the agency team where uncertainties in the market will prevail.
What are you doing to keep the team informed and motivated?
Communication is the key to keeping people together. The use of Zoom and Teams has been particularly helpful in this regard. Regular meetings and group discussions help keep the staff together.
We have provided a written summary of the action that the firm has taken and backed this with a 7-minute video. In the video I am detailing the strategy of the firm, measures being taken to protect jobs, and how we will move the firm forward. This was well received. We will be providing an update on this in the next week.
How have your clients & tenants responded to the current situation?
Information is the key for clients – knowing the position of their occupiers and how to move matters forward. Some have genuine hardships as their business has stopped, others have problems balancing their cash flow. Many occupiers are communicating well whereas others have just blanked landlords- not a helpful approach. Clients can only deal with what is in front of them. The current situation is as challenging for them as anyone with reduced income and debt to balance.
What opportunities do you see arising from this in the near future?
Inevitably there are going to be some occupier businesses that do not survive this ordeal. This will place pressure on landlords to sell some investments and renegotiate debt where possible. With this comes a chance to re-gear leases to assist occupiers, relocate others, and place investments in a better long-term position for asset enhancement.
At a corporate level as far as Metrus is concerned I hope that our clients will appreciate the intensive activity and proactive approach that we have given to the crisis. We will see disgruntled clients from other firms come to us knowing that they are in safe hands even given these extreme circumstances.
What long-term effect can you see from the result of lockdown?
Changing occupier patterns, particularly in the office sector will speed up what has already been a fast-changing environment. Retail patterns will change with some not recovering; again speeding what has been an evolving situation. Maybe wider consolidation of some surveying firms, to name but a few…
What is your best 'Working From Home' tip to all those who are struggling?
It's very simple. Communicate!
Property & Asset Managers are being challenged now more than ever. What do you think will set people apart from the rest?
It has always been the case that a proactive approach is preferable and having a strong property management company to assist the processes and knowing the occupiers will inevitably produce dividends. Many clients already appreciate how essential an effective managing agent is; no doubt this will be brought into focus even more.
Any advice or tips for those looking to get into the industry?
It's not going to be easy. Most firms will be putting a pause on graduate entry to cut costs. I think entrants need to think carefully about their long-term goals rather than short-term objectives. Those that are prepared to 'graft' and appreciate that gaining experience is the key, not necessarily short-term financial remuneration are likely to fare better.
The resilience of the property market in this great city has been tested on many occasions, most recently, during the global financial crisis. On every occasion, the sector has rebounded and returned to its former glories and yes the current health crisis presents a whole new set of challenges, but don't be in any doubt, our resilience will win out again. Things have to go back to normal, albeit a new type of normal, now it is a matter of when, not if.
While we are in this state of limbo, let's remember the good times. Before the global pandemic hit, our clients were growing, diversifying into different sectors, and bolstering their teams across the board. We saw a 320% increase in retained business, a clear sign of market confidence.
As mentioned earlier, we were observing consistent pay rises for those within Property & Asset Management. When talking to Adrian we noticed that despite the fact that we are in slumber, the professionals in our business continue with very busy agendas as they seek to help their clients and tenants navigate these challenges.
As he mentioned, costs will most likely be cut by many. Will companies be ready to compromise on the quality of talent they want to employ in order to cut costs? Or will there be concessions made in different areas, only time will tell.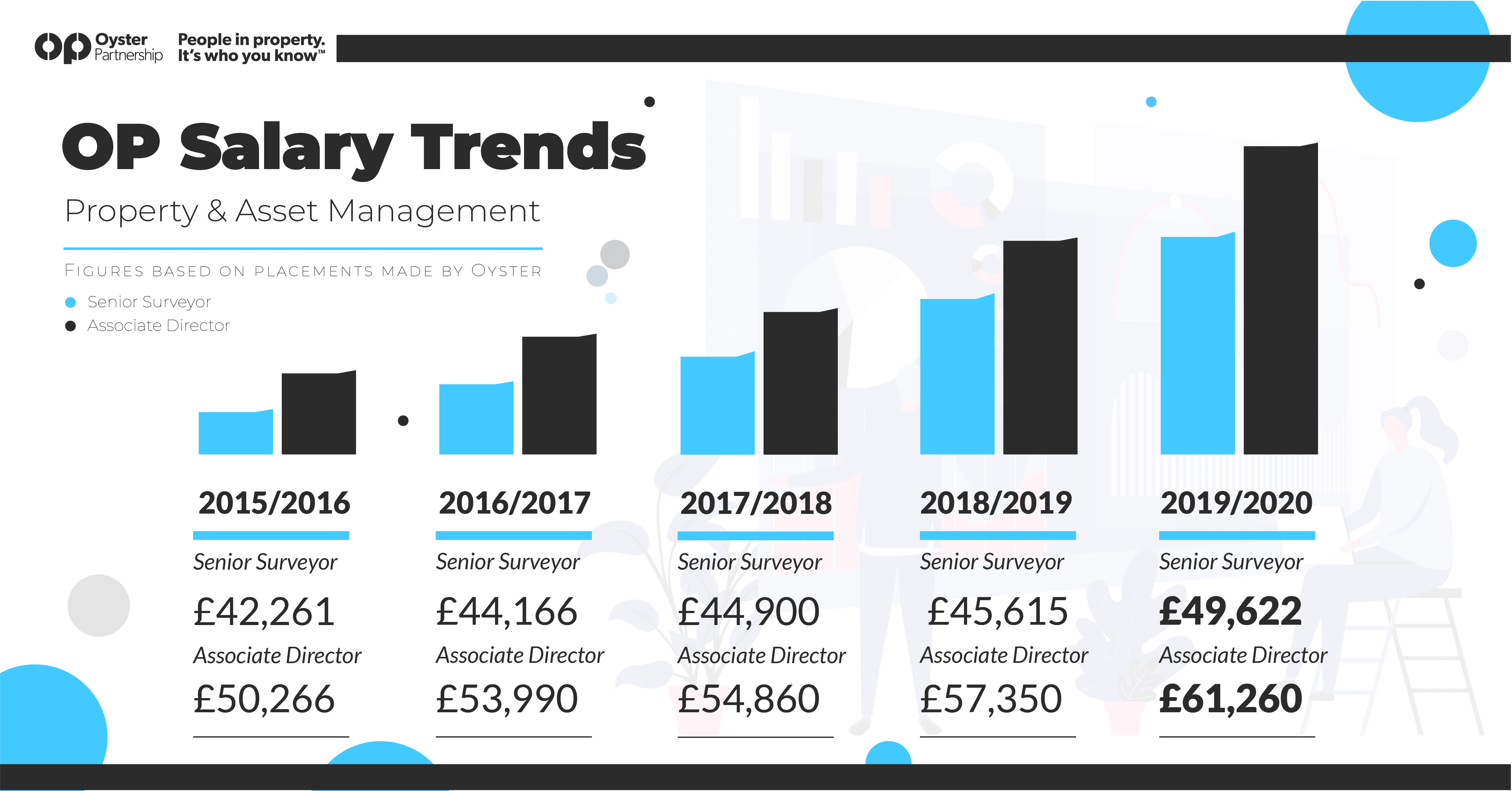 ''We have seen a consistent rise year on year since 2015 however the rate of increase has accelerated in the last 12 months. With 2019 inflation standing at 1.5% and the average UK salary increase at 3.9%, it's a different story for those lucky enough to be working in Property & Asset Management. In just one year, we've seen a rise of 8.8% across placements made at Senior Surveyor level and 6.8% at Associate Director level. It is a hugely competitive market and clients are having to be more creative than ever in trying to attract the best talent. Given the current climate, it will be interesting to see if this upward trend continues in 2020 or if the economic impact of the health crisis curbs the growth in salary levels''
Robert Murray, Divisional Manager, Oyster Partnership